10 Pairs of running gloves to keep you warm this winter
 Ten pairs of running gloves to keep your hands nice and toasty this winter.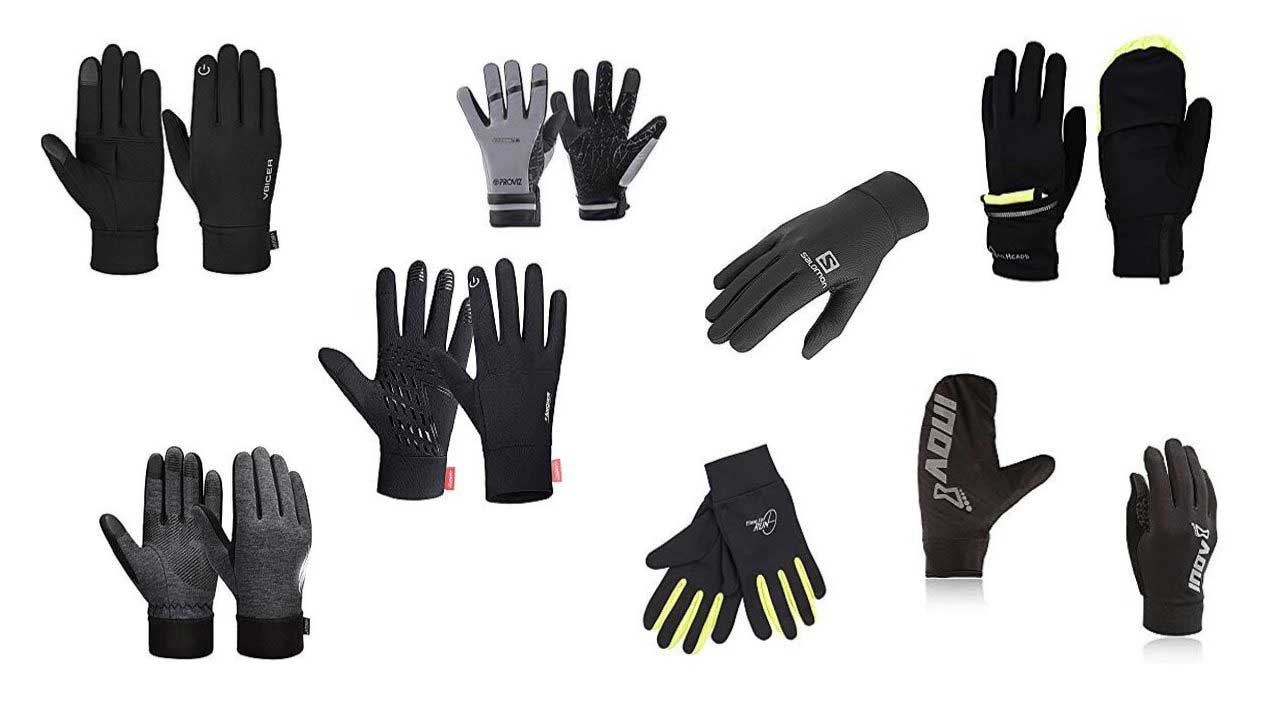 With winter this year (2019) in the UK rumoured to be the coldest winter in over thirty years, I wouldn't leave your cold winter running gear to chance.
If you're to face the beast of the East and train this winter, you'll want to invest in some warm winter running gear. Ideally, you should invest in a high-quality pair of running gloves, a running jacket, a pair of running tights, and a couple of three-quarter zips to even stand a chance.
In the winter, our fingers lose heat quickly due to the large surface area. Plus, while we're running, unlike the rest of our body, our fingers aren't really doing much… to prevent our fingers from going blue or falling off, you ought to wrap up warm, especially in minus 14 degrees Celcius.
Related: 9 Essential winter running gear items for Men.
Related: 9 Essential winter running gear items for Women.
A pair of well-insulated running gloves allow us to do exactly that. With a wide choice of colours and features to choose from including touchscreen capabilities and 2-1 mittens, there's a pair for everyone.
This article will cover some frequently asked questions about running gloves, alongside ten excellent pairs to protect you from the elements come winter… it's sooner than you think.
Related: The ultimate guide to winter running for beginners.
What are running gloves for?
It may seem pretty straight forward… but hey, it does get asked from time to time. A pair of gloves insulate and keep our hands warm while providing wind and waterproofing, ideal for running in the winter.
When should I wear them?
Ultimately it's down to personal preference. Many opt for a pair once the temperatures start to drop while others are reluctant and won't wear running gloves at all. Strange, I know.
Generally, however, anything colder than 4 degrees Celcius and you should definitely start running with a pair of gloves. Running without gloves in such a cold temperature increases your risk of hypothermia, and quite frankly it's uncomfortable.
How do I wash my running gloves?
While you'll more than likely get away without washing your gloves for a while, there will come a time when you should probably plunge them in warm water.
We suggest washing your running gloves in warm, not boiling water. The water should ideally be less than 30 degrees Celcius to prevent any damage to the glove material. Likewise, as with any running gear/clothing, you should avoid tumble drying at all costs – this increases the risk of shrinking and further damaging the sports material.
How should they fit?
Your gloves should fit nice, and snug, and definitely shouldn't be too big. Gloves which are too big won't keep you as warm as you'd like while also potentially causing chafing.
10 Excellent pairs of running gloves
With the questions out of the way, here are Ten excellent pairs of running gloves to keep you nice and toasty this winter.
*This post contains links to amazon. As an amazon associate, we will earn a small percentage on qualifying purchases. Find out more here.
1.

Vbiger unisex touchscreen gloves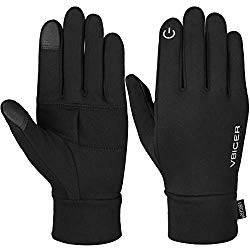 Key features:
Touchscreen (can switch songs while running etc.)
Reflective print to remain visible while running at night
Small pocket design
These touchscreen running gloves are both low on price and extremely functional. Containing reflective printing, you'll remain visible while running at night alongside the touchscreen design to switch songs or use your phone while running.
As well as this, there is also a small pocket design to store loose change, keys, or any other small valuables you may have.
2. Inov8 All Terrain Gloves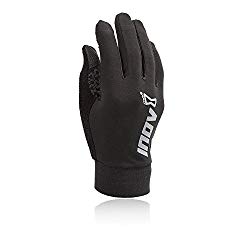 Key features:
Touchscreen (can switch songs while running etc.)
Reflective print to remain visible while running at night
Created using synthetic material to keep you warm
These running gloves from Inov8 utilise a stylish design alongside touchscreen capabilities allowing you to use a mobile device without having to remove the gloves. Created using synthetic material, these gloves will keep you warm while keeping you visible in the darkest of conditions.
Being super light at only 24 grams and easy compactible, these gloves are perfect for storing in shorts when you're unsure on the weather.
3. VBIGER Unisex anti-slip, touchscreen winter running gloves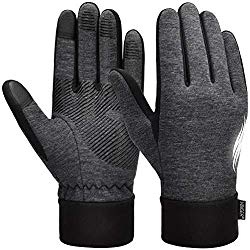 Key features:
Anti-slap palm design to increase grip
Reflective print to remain visible while running at night
Touchscreen (can switch songs while running etc.)
Splash-proof design to prevent leakage into the gloves
Utilising a slightly different colour scheme and design to the pair mentioned previously, these unisex running gloves also contain an anti-slip palm design to offer increased grip on objects.
Like the other pair, these also contain a reflective design, touchscreen capabilities, and a splash-proof design to prevent any leakage into the gloves.
Related: 10 Tips for running in the rain.
4. Coskefy unisex touchscreen running gloves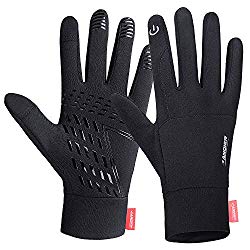 Key features:
Fleece lining
Premium soft fabric for increased comfort
Anti-slip material
These gloves utilise a premium soft fabric to increase comfort, upgrade performance, and increase both durability and breathability. Alongside this, these running gloves from Coskefy also contain a fleece lining to lock heat inside of the glove while providing a nice, snug fit.
Utilising anti-slip material, these gloves are also perfect for other sports such as cycling and golf.
5. Inov8 unisex race ultra-running mittens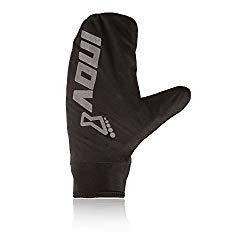 Key features:
Reflective logo for increased visibility
Waterproof outer to keep you dry
Fit perfectly into Inov8's running shorts or pants
These running mittens by Inov8 are perfect for staying warm while running. With a large reflective logo for increased visibility, a stretch cuff for increased comfort, and a waterproof outer, these running mittens are your perfect companion whether you're storming the fells or out for another wintery late-night run.
Finally, these running mittens are also designed to fit perfectly into any of Inov8's running shorts or pants – ideal for unpredictable weather changes.
6. TrailHeads touchscreen gloves with reflective waterproof mitten shell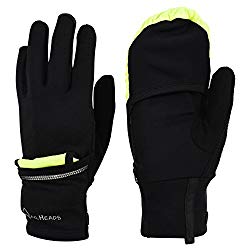 Key features:
2 in 1 convert from running gloves into running mittens
Waterproof shell design
Hidden magnets to pair your gloves together
Despite the hefty price tag, these touchscreen running gloves from TrailHeads have a 2 in 1 versatility converting traditional gloves into mittens for extra protection against winters elements.
The mitten top neatly tucks into a pocket at the top of the wrist while containing a highly reflective and waterproof shell keeping the rain and snow from freezing your fingers.
Finally, another nice feature is the use of small hidden magnets to securely pair your gloves together for ease of access.
7. Time to run thermal gloves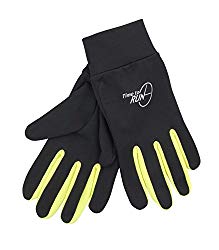 Key features:
Sweat-wicking fabric to increase comfort
Reflective detailing to increase visibility at night
At a much more affordable price tag than the last pair, these thermal running gloves from time to run utilise brushed thermal polyester fabric to keep you warm alongside wicking of sweat and fast drying for increased comfort while training.
Like many other running gloves which we've suggested, these gloves also contain a reflective trim – ideal for running in low light conditions.
8. Salomon lightweight unisex winter gloves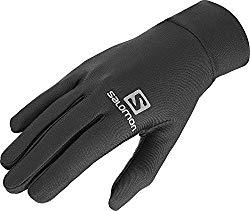 Key features:
Designed for optimum comfort and warmth
Touchscreen (can switch songs while running etc.)
Warm and breathable material
Utilising a smart design from Salomon, these gloves are fully researched and developed for optimum comfort and warmth. Including touchscreen fabric, these gloves allow you to use your smartphone without removing the gloves.
As well as this, Salomon uses a breathable yet warm material, keeping you well-protected against the elements while keeping you dry and comfortable.
9. Proviz reflect 360 waterproof gloves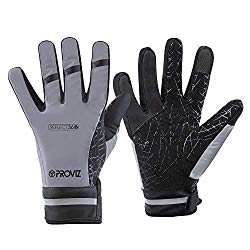 Key features:
Full 360 reflective design
Internal waterproofing and insulation
You may already know Proviz for their highly reflective running and cycling jackets. Their running gloves are no different. Utilising a full 360 reflective design, these running gloves provide enhanced visibility while running at night.
Related: 8 Tips to stay safe when running during the day or at night.
Under the reflective layer, these running gloves contain internal waterproofing and insulation – keeping us dry, warm, and comfortable mile after mile.
10. Race elite 3 in 1 glove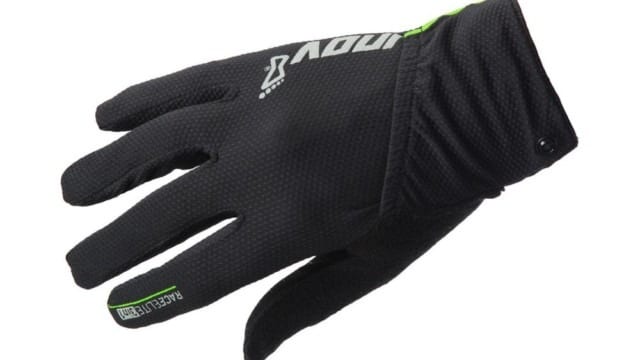 Key features:
3 in 1 design (worn as gloves, mittens, or both)
Super lightweight & breathable
Fully waterproof outer mitten
Finally, another pair from Inov-8, we have the race elite 3 in 1 running gloves. Designed for the trail/fell runner in mind, these gloves contain silicone prints for increased grips navigating rocks and tough climbs. Also, you will benefit from the fully waterproof mitten, lightweight design, and more!
Related: 10 of the Best Men's running tights available in 2019.
Related: 10 of the Best Women's running tights available in 2019.