7 of the best head torches for running
Need a new head torch for running? Here are seven of the best to keep you safe and well-lit this winter.
With the cold, dark, and winter nights approaching fast, now's a perfect time to invest in a headtorch for running. Not only will this increase your visibility when running at night, your visibility to both cars and other road users will also be increased.
The majority of head torches for running are now rechargeable, easy to use, and make use of different light settings for a variety of conditions.
To help you on your way, and of course, to help you see on those cold winter nights, we've provided seven of the best head torches currently available for runners in 2019.
7 of the best head torches for running 
In no ranked order, here are seven of the best head torches for running, increasing your visibility and safety while running at night.
Related: 8 Tips to stay safe while running during the day or at night.
*This post contains links to amazon. As an amazon associate, we will earn a small percentage on qualifying purchases. Find out more here.
1.
LED Lenser rechargeable headlamp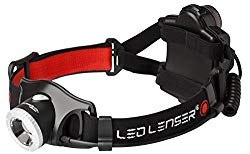 Arguably one of the best for serious runners, this LED Lenser rechargeable headlamp has a powerful 300 lumens and a 160m beam range. With such a large range on the headtorch, this makes it ideal for running on country roads, busy streets, and especially when running on the fells or trail.
Related: A beginners guide to fell running.
Related: 7 Reasons why you should start trail running.
Finally, the LED Lenser utilises a Li-ion hybrid battery which can be recharged via USB or alternatively can be removed and fitted with four AAA batteries.
2.
USB rechargeable LED head torch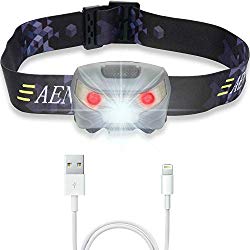 We've actually recommended this headtorch multiple times in other blog posts. Perfect for beginners, and being a relatively affordable price, this rechargeable LED head torch has a 150m visibility, IPX4 waterproofing, and over 2,000 positive reviews on Amazon.
Like many other top of the line head torches, the battery is also rechargeable. This removes the hassle of replacing batteries what feels like every week. Instead, a four-hour charge will provide up to 30-hours of constant light to keep you safe and visible while running.
3. Petzl Actik headlamp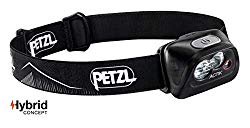 Coming in three different colours, this headlamp is lightweight, provides up to sixty-hours burn time, and can be used with a rechargeable battery. As well as this, you can make use of its 300-lumen brightness alongside its several different light modes.
This includes the popular red lighting to preserve night vision without blinding other members of your running group.
Finally, an additional feature includes an attachable emergency whistle for rescue situations whilst on the run. Something we'd like to see included on more running head torches and gear.
4.
6,000 Lumen high-power headlamp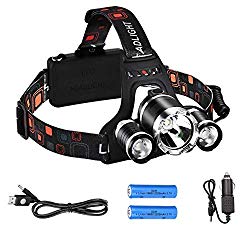 Utilising three ultra-bright 6,000-lumen lights with a lifespan of over 100,000 hours, this running torch is excellent for those running in difficult terrain and dark conditions. As well as running, you can also use it for hiking, night fishing, or even sailing.
The super output for low light conditions produces an impressive 6,000 lumen if needed. As well as this, the battery can be charged in a small number of hours providing up to six-hours on a full charge. 
Finally, the head torch itself can be rotated 90 degrees in different directions, ideal for poorly lit terrain and paths.
5.
SUVOM rechargeable 4 mode headlight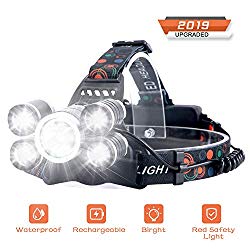 Coming with four working modes, including a strobe light and focus light, you're well equipped whatever the lighting conditions. Utilising a long-life rechargeable battery, you can rest assured knowing you'll remain visible mile after mile whenever and wherever you'll be running.
This headtorch is also adjustable and waterproof, equipped with 90-degree rotation to light up any unlit corner required.
If that's not good enough, and you're not yet entirely convinced, SUVOM also offers a full 30-day warranty if you're not fully satisfied with the product.
6.
Energizer Vision LED headlamp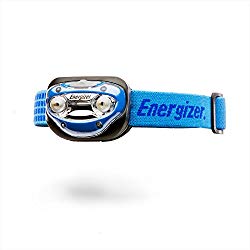 This headlight from Energizer is affordable, lightweight, and durable – ideal for beginners. However, only providing 100 lumens this headlamp isn't as bright as others, but that is to be expected given the price.
Unlike other head torches, the Energizer vision only runs on batteries, triple-A to be precise. If you're looking for a headlamp for recreational running or just a one-off training session, this one is definitely a great choice.
7.
Silva Ninox 3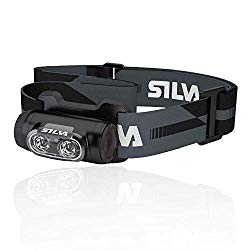 With a 300 lumen light output covering a 75m distance, the Silva Ninox 3 is a great running companion for low light conditions. With a lightweight design and 5 light modes including max, min, blink, and red, there's plenty of variety wherever you're running.
However, it appears to run on batteries and is not rechargeable unlike some of the other running head torches recommend in this article. Therefore, if that is something you're looking for we suggest choosing an alternative one from this list!
Other than that, the headtorch is excellent for running, camping, walking, hiking, or climbing in low light conditions.
So, what is the best running headtorch?
This ultimately depends on two things, your budget and what exactly it is you're looking for. If you're a recreational runner and run no more than two times per week, then chances are you'll be looking at a cheaper option possibly with reduced brightness.
However, if you run six or seven times a week, you may be looking to upgrade to a more expensive, long-lasting battery for those long dark runs throughout the week.