6 Best running insoles available in 2021
What are running insoles and why might we need them?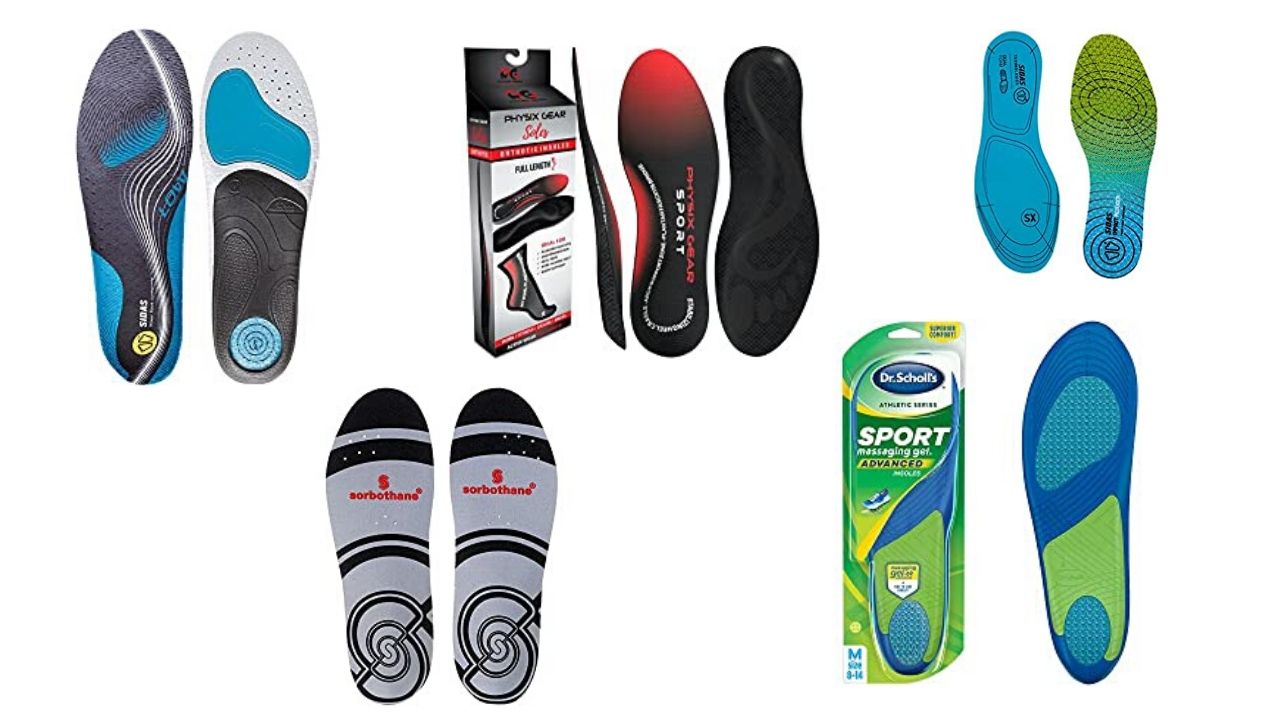 If you suffer from some form of running fatigue/pain, a pair of running insoles may just be what you've been missing. Running insoles can be purchased over-the-counter and also online from specialist brands, designed to improve the comfort of our running shoes.
Often, the insoles that come with our running shoes don't provide that extra support and comfort, with these being rather fragile and weak. A well-made pair of running insoles can even reduce pain in the plantar fascia, allowing those suffering from the common running injury; plantar fasciitis to still train.
However, there are various different types of insole, with some designed specifically for overpronators (when your foot rolls inwards), underpronators (when your foot rolls outwards), those with high arches, and some for reducing the pain of shin splints.
Before diving into the best running insoles, we're first going to discuss what these inserts are actually made out of.
What are running insoles made out of?
Running insoles are made out of a variety of materials, some using gel, foam, EVA, plastic, or carbon fibre to increase comfort and support lower limb motion when running.
The general goal of these insoles is to better position and support the foot during exercise, preventing discomfort, improving moisture control, and shock absorption. These factors may also contribute to a reduced risk of injury. Alternatively, running insoles are often also used with some athletes when returning from injury, especially if they've suffered an injury such as plantar fasciitis – more on this later.
*This post contains links to Amazon products and other affiliates. We will earn a small percentage on qualifying purchases to keep the site running. To find out more, please click here.
1. Best overall
Key features:
Designed to prevent shin pain, knee pain, and plantar fascia pain 
Triple zone protection to decrease shock absorption by 40%
Deep heel cup to absorb impact with every step
Anti-odour design
Dr Scholl's athletic insoles are one of the best pairs on the market. Rated as our best overall insole, the reinforced arch support, deep heel cup, and foot padding increase shock absorption, reduces pain and promotes proper running form and technique. This, in turn, will also reduce your risk of injury.
2. Best running insoles for flat feet
Key features:
Deep heel cradle for increased stability 
Anti-microbial top fabric
Great for flat feet, increased arch support, overpronation, & heel pain 
Flat feet are where your feet press flat on the ground when walking or running. This is also commonly called "fallen arches". Those with flat feet are more prone to developing muscular strains in the lower limbs, with these pains and strains beginning in our feet. This can be painful and may lead to running injuries down the line, such as plantar fasciitis.
These running insoles from Physix Gear are designed to increase comfort and stability for those with flat feet. This will reduce pain both walking and running and prevent further tears in the feet that may lead to an injury such as plantar fasciitis or in some cases also Achilles tendinitis.
3. Running insoles for overpronation
Key features:
Non-slip design to prevent burning sensation and blisters when running 
Ideal for those who overpronate 
Specialist heel pad to increase shock absorption 
Overpronation is when your foot rolls outwards each step. This is often a result of high arches, causing our foot to roll outwards to compensate. If left untouched, overpronation may develop into Achilles tendinitis – a painful injury that impacts the band of tissue from the calf muscles to the lower leg and heel.
These running insoles from Sidas are specialized for those with high arches and/or overpronate, increasing comfort, decreasing shock through each step, and reducing your risk of picking up an injury down the line.
4. Running insoles for plantar fasciitis
Key features:
Shock absorbing and increased heel support for plantar fasciitis
Coolmax technology to wick sweat away from the body, increasing comfort & keeping your feet cool and dry
Plantar fasciitis is where you have pain in the bottom of your foot, mainly in the heel and the arch. This running injury can be a result of many things. However, generally it boils down to overuse and too much impact going through your feet. A great way to reduce the pain of plantar fasciitis is a specialized pair of running insoles. This, paired with regular icing and stretching should see the everso common injury go away within a number of weeks.
These running insoles from Sorbothane provides you with full confidence and protection when running or walking. The increased shock absorption and heel support lessens the pain of plantar fasciitis, allowing you to focus on what matters – breaking those personal bests.
5. Best for shin splints
Key features:
Viscolatex rearfoot technology to increase shock absorption, lessening the impact on our joints and lower limbs
Rubber foam forefoot to increase performance
Slim design
Shin splints are one of the most common running injuries. Quite simply, shin splints is a sharp pain felt in the shins, often as a result of excessive exercise. With that being said, one way to reduce this pain is a specialized pair of running insoles.
Reducing the shock absorption through our body is the easiest way to reduce the pain associated with shin splints. A pair of running insoles, such as these from Sidas is a great first step to getting rid of shin pain altogether.
6. Best running insoles for supination (underpronation)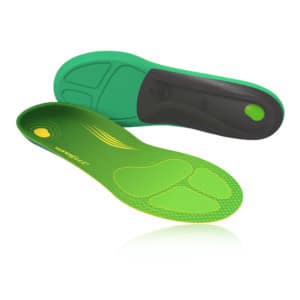 Key features:
Deep heel cup helps stabilize your foot and provides additional shock absorption
Natural design promotes the correct running form and foot strike 
Durable construction provides optimal ride mile after mile 
Supination, also known as underpronation, is where your foot rolls to the outer edges of your feet. If you experience particularly severe supination, you may encounter foot paint, general soreness, and perhaps an increased risk of picking up an injury.
A pair of supination running insoles, however, (such as the pair above) can help re-align your footstrike to a more natural position, increasing comfort and protecting your feet from further pain.
If you're unsure whether or not you underpronate when you run (or whether you have any other foot problems or issues), we recommend getting a gait analysis test done. This can be done at most high-end running stores, determining your running style and foot strike.
Frequently asked questions:
Okay, now you hopefully have an idea of what insoles are best for you. However, in case you have a few additional questions we've put together a short FAQ:
Are insoles good for running?
There are various different kinds of running insoles - some designed for those who overpronate, others with plantar fasciitis, flat feet, or to simply increase cushioning and support. In short, yes - running insoles are great for increasing the cushioning and support in our running shoe.
Can you get custom made running insoles?
Yes. You can get custom running insoles made but these can be quite expensive and not entirely necessary for most people. Instead, we recommend trying a cheaper pair and if the pain persists perhaps investing in a custom made pair in hopes of lessening this pain.
Are gel inserts the best?
There is no best running insole but gel inserts are great for reducing impact and the stress felt by your feet and lower limbs. A high-quality pair of gel insoles will reduce your risk of injury and perhaps increase performance.
Do insoles hurt at first?
Your new insoles should feel comfortable upon first using these. However, it is normal to feel a little adjustment - after all your foot is placed in a different position. However, you should not feel any pain - if this is the case this is likely the wrong insole for you.