Running arm sleeves: 6 of the best available in 2022
All you need to know about running arm sleeves, including what they are and six of the best options currently available.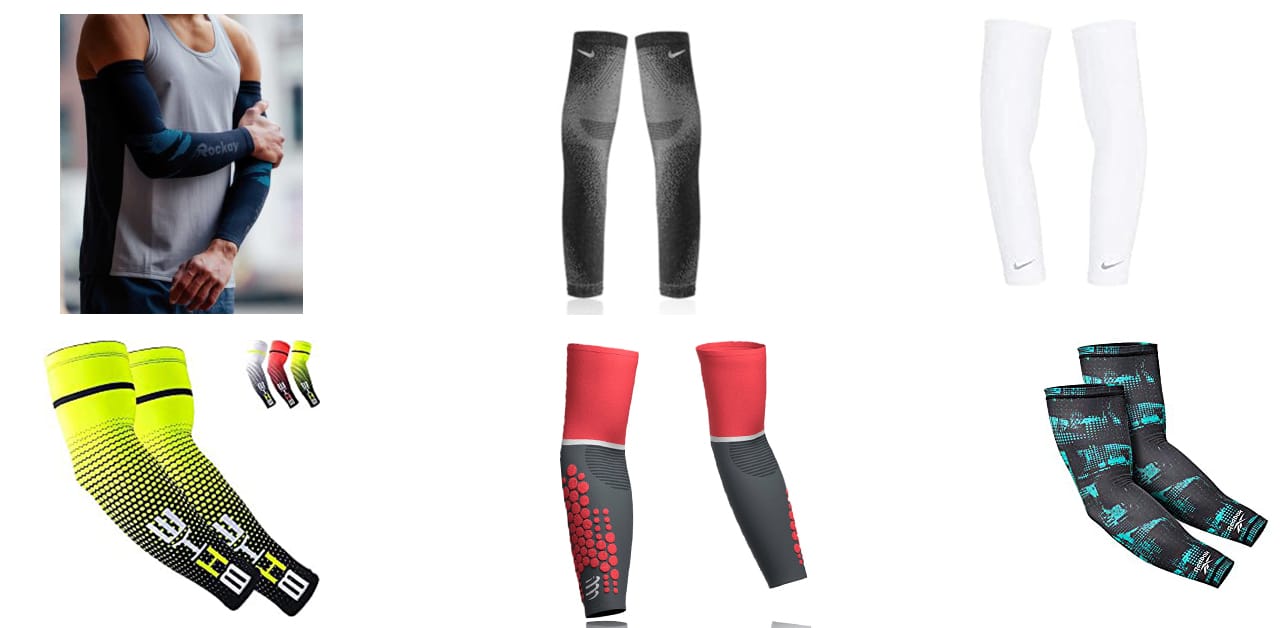 Running sleeves are a piece of kit you don't see too often, however, more and more runners are jumping on the bandwagon and investing in a pair of arm warmers for the coming months. These sleeves are very similar to the compression calf sleeves you're likely familiar with, offering many of the same benefits but instead designed for the arms.
Not only are running arm sleeves stylish, but they also offer numerous benefits to the user – of which will be discussed shortly. This article will provide you with six of the best sleeves currently available in 2022, then will explain why people wear running arm sleeves, and will finish with a short FAQ to answer any questions you may have.
This post contains links to Amazon and other affiliate partnered sites. As an amazon associate and affiliate (to other sites), we will earn a small percentage on qualifying purchases. Find out more here.
1. Rockay ignite running sleeves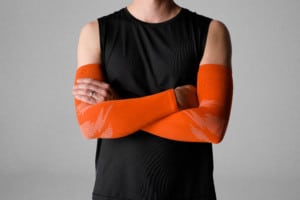 Key features:
Seamless construction for a comfortable and breathable fit 
Reflective Rockay logo for increased visibility
Created using 100% recycled materials
The first pair of sleeves we have for you are from Rockay, leaders in sustainable running clothing and sportswear. The ignite sleeves are no different, created using recycled materials but offering all the usual benefits of compression arm sleeves and more. For example, the highly reflective design ensures you remain visible during the winter months, while the soft fabric and comfortable fit make sure you remain warm, too.
2. Nike breaking 2 running arm sleeves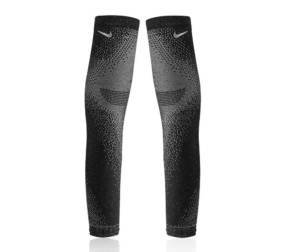 Key features:
Heat-retaining design, ideal for staying warm during those colder runs
Reflective detailing
Ergonomic & sweat-wicking design for added comfort and reduced chafing
Modelled after Eliud Kipchoge and his attempt to break the 2-hour marathon, the breaking 2 running arm sleeves contain some of the most impressive technology packed into two stylish sleeves. For instance, the heat-retaining design guarantees you remain warm no matter the weather, while the economic & sweat-wicking features reduce moisture build-up while keeping you comfortable mile after mile.
These are the ultimate running sleeves for those looking to improve performance while supporting their recovery – there's no doubt about it.
3. Reebok running sleeves
Key features:
Lycra material creates a lightweight but stretchy design
Helps regulate temperature and reduce muscle soreness
Improves circulation 
Next up, we have the Reebok running sleeves, available in a dark grey and blue colourway. Unlike other brands, these running sleeves are created with lycra, providing a lightweight, comfortable, and stretchy design to help you crank out those long runs or interval sessions.
There is also a set of matching compression calf sleeves for those who want to match their look, also available on Amazon.
4. UV sun protection running arm sleeves
Key features:
Blocks up to 97% of harmful UV rays 
Compression design provides additional support
Breathable and lightweight design
Very few running arm sleeves are designed with the exclusive purpose of blocking harmful UV rays from the sun. However, that's what we have here – a refreshing and useful piece of kit all runners should add to their kit bag. Similar to other sleeves, including the below pair from Compressport, these also contain a compression design, enhancing performance and providing optimal blood flow to the arm muscles.
The design is breathable and moisture-wicking, ensuring a comfortable run, whether one mile or ten miles. It would be a nice addition to see other running arm sleeves follow suit, protecting runners equally from the sun and the colder weather conditions. Likewise, it would be a welcomed addition to see more arm sleeves and brands adopt a greater sustainable approach, such as the Rockay pair in our number one of our list.
5. Compressport arm force ultra light arm sleeves

Key features:
Compression muscle support to increase performance and comfort
3D dots further provide optimal blood flow
Technological microfiber weave wicks sweat away from the body while keeping you dry and comfortable 
Enhanced thermoregulation 
Second to last, we have the Compressport arm force ultra light arm sleeves. The advanced compression design further increases muscular support, enhancing performance and providing optimal comfort. Moreover, the technological microfiber weave wicks sweat and excess moisture away from the body, keeping you cool and comfortable.
Finally, with advanced thermoregulation technology, these running arm sleeves will keep you warm in cold weather and cool in hotter climates.
6. Nike unisex compression sleeves for running
Key features:
Dri-fit technology wicks sweat away from the body
Choice of two colourways 
Keep your arms warm during the colder winter months 
Finally, we have the Nike unisex compression sleeves for running, a much more affordable option in comparison to the aforementioned breaking 2 sleeves (and others listed in this article). The fabric is comfortable but also functional, wicking sweat and moisture away from your arms to keep you dry and focused on your run.
Also, you'll benefit from the added warmth, a great option during spring (or winter), a comfortable middle ground between a short-sleeved and a long-sleeved running shirt.
Why do people wear running arm sleeves?
There are numerous reasons as to why runners choose to wear arm sleeves while running, some of which include increased visibility, improved comfort and support, and added warmth during the cold winter months.
Other benefits of wearing running sleeves include:
UV protection
Compression
Anticipation for the weather
Style
To help break down each benefit in more detail, each of these will now be explained in more detail individually below.
UV protection
As we're sure you're aware, most runners like to run outdoors, staying away from the treadmill where possible. However, during the summer months, you run the risk of sunburn and general increased exposure to UV light.
While you should definitely wear suntan lotion, a pair of running arm sleeves will also protect your arms against the potentially harmful rays of the sun. Whether you run once a week or once a year, you will benefit from these sleeves. Oh, and you'll look fairly dapper while doing so.
Compression
Second, most running sleeves contain a compression design. This means the sleeves are slightly tighter than normal with a unique pattern, encouraging increased blood flow to the arms. This is beneficial in itself for various reasons, but includes added warmth during the winter months, and increased performance (less fatigue in the arms).
Also, compression gear helps reduce swelling on longer runs and is also commonly used as a recovery tool. After a run you may see runners putting on a pair of their favourite compression sleeves, increasing blood flow to remove the lactic acid built-up during their run. This reduces the recovery time between sessions and also contributes to lessened muscle soreness.
Anticipation for the weather
You may also see some runners wearing a pair of running sleeves during the winter or even summer with no other layer other than perhaps a running t-shirt. Usually, this is in anticipation for the weather. Maybe it's too hot for another layer, but if the temperature is to drop, you want a little extra warmth without the added weight or restriction and vice versa – this is where the running arm sleeves really begin to shine.
This allows you to pack light but still be prepared for slight changes in the weather, leaving you less likely to get caught out whether on your long run or out stomping puddles on your favourite trail.
Style
Finally, we have style. You've likely seen many elite runners rocking a pair of sleeves, from the likes of Mo Farah to the not so long ago attempt of the sub-2-hour marathon by Eliud Kipchoge. There's no doubt these athletes were wearing them for the performance benefits (reduced arm fatigue, added warmth, etc.), but they also looked pretty fly while doing so.
If this isn't a reason to invest in a pair yourself, then that's perfectly fine but it's always an added bonus, right?
What are the best running arm sleeves for runners?
This article has highlighted six of the best running arm sleeves for runners from various brands, including a sustainable approach from Rockay, a pair ideal for running in the heat, and others more suited to those on a budget. Take your pick and reap the benefits of a pair of running sleeves. Oh, and you'll also look like your favourite Olympic athlete – we're looking at you Sir Mo Farah.
Frequently asked questions
To finish, we've gathered together various commonly asked questions regarding running arm sleeves, of which you can see below:
What do running compression sleeves do?
Running compression sleeves help retain heat (ideal for running during colder conditions), but also improve performance and enhance recovery.
How tight should compression arm sleeves be?
Your compression arm sleeves should be tight but not restrictive. For example, these should be comfortable, not loose and certainly not responsible for any swelling. If this is the case, you may require a larger size sleeve.
Why do runners wear calf sleeves?
Calf sleeves are also popular for runners. Usually, compression calf sleeves are worn to both increase performance by providing optimal blood flow to the muscles, while also reducing recovery times between each workout or run.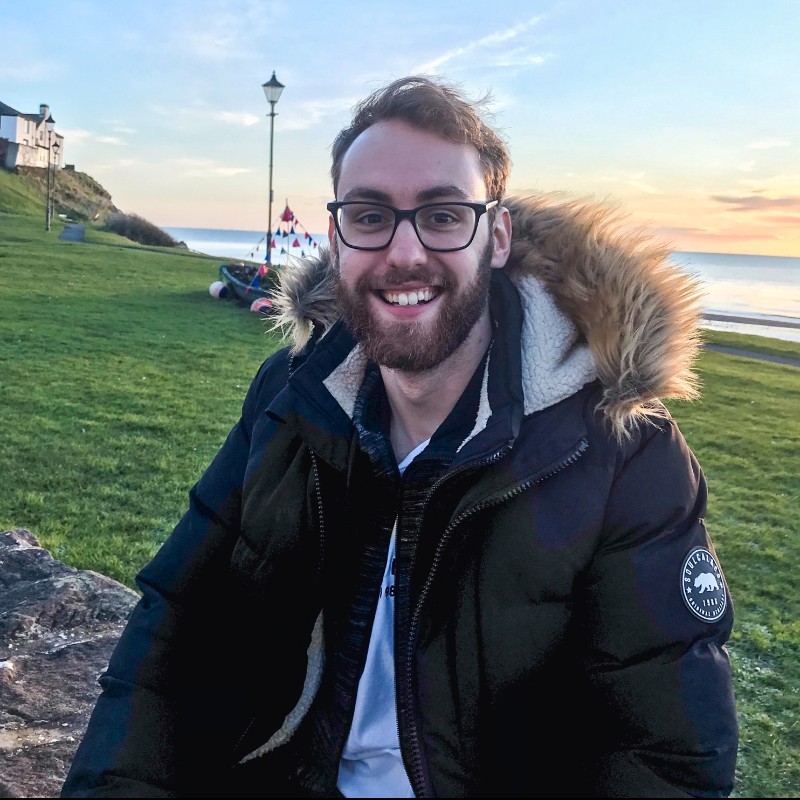 Matthew is an avid runner, freelance writer, Durham University graduate, and the founder of Running101.