10 stylish and comfortable running t-shirts for men
Nothing beats a high-quality t-shirt, especially a running one. Here's ten stylish and comfortable running t-shirts for men.
The running t-shirt, an essential for any runner as either a main layer or even a base layer on some of the colder days of the year. However, what are the best running t-shirts out there? We've selected ten based on a variety of different factors, all of which will be discussed in this article.
Whether you're running in the summer, on the treadmill, or in frosty conditions, here are ten Men's running t-shirts to choose from.
*This post contains links to amazon. As an amazon associate, we will earn a small percentage on qualifying purchases. Find out more here.
1. New Balance Men's core short sleeve t-shirt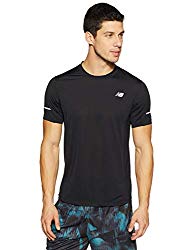 Key features:
moisture-wicking fabric
New Balances signature dry technology
Made with 100% polyester and recyclable materials 
Manufactured with 100% polyester and recyclable materials, this running t-shirt is not only stylish but is also fully breathable while utilising a moisture-wicking fabric with New Balances signature Dry technology. 
The sleeves and logo at the front of the top are also highly reflective, helping you remain visible while running at night or in dark conditions. 
Related: 8 Tips to stay safe while running during the day or at night.
2. Nike Men's breathe running top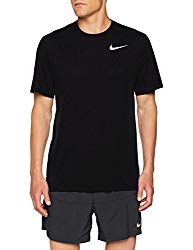 Key features:
Nike's signature dri-fit technology
100% polyester design
Choice of different colours
Available in nine different colours, this short-sleeved running top from Nike is created with both dri-fit technology and a dri-fit breathe. As well as this, you're also offered increased comfort with the 100% polyester design – all while offering a choice of many different colours.
Please note that when washing, stick to 30 degrees or less to prevent shrinking or damage of the running top. 
3. ASICS Seamless short sleeve running T-Shirt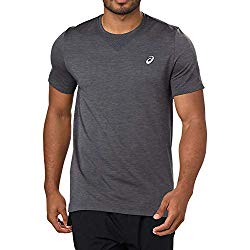 Key features:
Moisture-wicking fabric 
Split button for increased freedom of movement
Seamless design
Utilising a seamless design and a slightly longer length than the usual athletic fit, you're offered increased comfort, all whilst maintaining style. Like many other running t-shirts, ASICS also make use of moisture-wicking fabric to keep sweat away from the body while keeping us nice and cool when running.
Two additional features include a split bottom for increased freedom of movement and a mesh backline for further enhanced breathability.
4. Under Armour Men's Tech 2.0 short-sleeved T-Shirt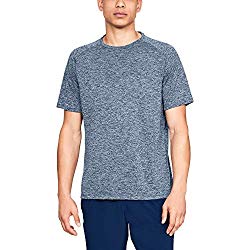 Key features:
Lightweight and breathable
Anti-odour technology
Comes in twelve different colours 
This fitness/running t-shirt is lightweight, breathable, and manufactured using anti-odour technology. This increases comfort while keeping your top nice and fresh, that does mean, however, that you still need to wash it!
Finally, for those with a more colourful taste, this short-sleeved T-Shirt from Under Armour comes in a total of twelve different colours. These include red, royal blue, kinetic purple, and black.
5. Proviz men's running/cycling top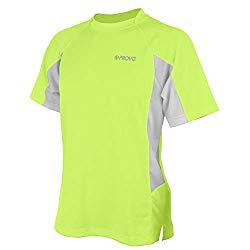 Key features:
Highly reflective detailing
Moisture-wicking fabric
Proviz is well known for its extremely high-viz running and cycling jackets. However, now you can add to your collection with the addition of a short-sleeved running and or cycling top. As you'd expect, the top contains highly reflective detailing to keep you safe and well-lit at night.
As well as this, the t-shirt is created using moisture-wicking fabric to keep us dry, comfortable, and running mile after mile.
6. TCA Men's short-sleeved quick dry running/gym t-shirt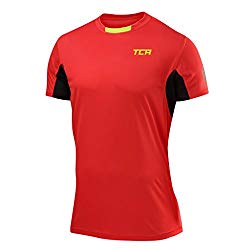 Key features:
Reflective detailing
Moisture-wicking fabric
Lightweight and breathable design
365 days + return policy 
TCA is creating quite the name for themselves with affordable, high-quality running, cycling, and gym wear for the fitness enthusiast.
This running t-shirt is no different. Utilising an atomic flash on the collar for a unique style and increased visibility, you're sure to be looking great while remaining highly visible to oncoming traffic and pedestrians. 
Secondly, as you'd expect with all high-quality running and gym t-shirts, TCA also utilise moisture wicking fabric with a super lightweight and breathable design. If this doesn't convince you, then maybe their quality guarantee and 365 days + return policy might? 
Finally, if red isn't your colour, there are four others to choose from. These are black, blue, graphite, and white.
7. Time To Run Men's technical running t-shirt
Key features:
Microbial fabric to eliminate odours
Choice of three different colours
365-day return policy
Another brand that is also highly popular in the running world is time to run. This running t-shirt comes in three different colours, and also a twin pack if you're looking for a set.
Moreover, time to run makes use of lightweight, fast-wicking fabric, mesh panels on the shirt to increase breathability, and a Microbial fabric to eliminate unwanted odours. 
Finally, just like TCA, there is also a 365-day return policy if you are not completely satisfied. 
8. ASICS silver short-sleeved top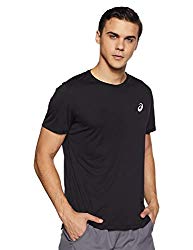 Key features:
Stretch knit fabric for a comfortable fit
Moisture-wicking
Flatlock seams to reduce chafing 
Another product from ASICS, this short-sleeved training/running t-shirt is manufactured using stretch knit fabric for a comfortable fit, alongside moisture-wicking material to keep you damp-free. 
A nice addition to this training top, in particular, is the use of flatlock seams to reduce chafing while running and or performing exercise.
Likewise, if you're looking for something a little more colourful then black, then you're in luck. There is also a choice of either grey, blue, rogue, and red to choose from. 
9. Akilek sports running t-shirt for men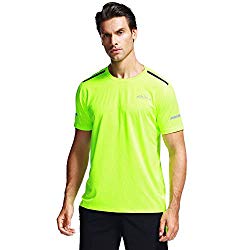 Key features:
5-star review on Amazon
Moisture-wicking
Wide variety of colours to choose from
Reflective detailing 
With a five star review on Amazon based on twenty-one individual ratings, this running t-shirt from Akilek is ideal for logging those long hard miles. Manufactured using professional sports fabric, which is moisture-wicking, you're sure to remain dry and comfortable mile after mile. 
Secondly, there is a wide variety of different colours and designs to choose from. These include dark blue, dark red, orange, and grey, to name a few.
Last but not least, this running t-shirt contains reflective detailing to keep you well-lit while running in dark conditions or at night. 
10. MKR short-sleeved sports t-shirt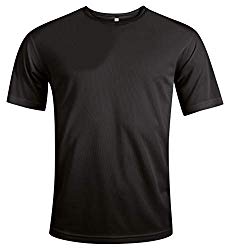 Key features:
Affordable and perfect for beginners
Wide variety of different colours to choose from
100% polyester
Breathable and lightweight
If you're looking for an affordable staple sports and or running t-shirt, look no further then these from MKR. Coming in endless colours such as green, purple, red, and blue, this 100% polyester training top is comfortable, breathable, lightweight, and reflective even in the darkest of conditions.
Finally, there is also a total of 357 reviews with an average rating of four and a half stars. If that doesn't say quality, especially on that price tag, we don't know what does.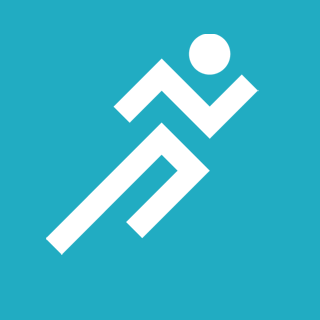 Sports student, writer, and avid runner.