Best running water bottle: a choice of 10
Looking for a new running water bottle? Here's ten to choose from!
Staying hydrated while running is essential, especially on hot summers days or on your weekly long-run. Drinking too little and not while running increases your risk of dehydration – reducing your sports performance and slowing you down.
Related: Everything you need to know about the long run.
Therefore, on runs longer than sixty-minutes in duration, or if it's hot outside, we suggest carrying a water bottle to sip on while running. This will take the guessing game out of becoming dehydrated while keeping you cool on those hot summer days.
As you've probably guessed, a water bottle is extremely versatile. You can choose to run with it, bring it to work, take it to the gym, and anything in-between. With such a wide selection of running water bottles available, we picked out top ten to keep you hydrated.
*This post contains links to amazon. As an amazon associate, we will earn a small percentage on qualifying purchases. Find out more here.
1.
Salomon soft water bottle (250ml)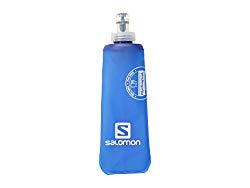 Key features:
Super-versatile 
Soft
Ideal for running during the summer
This soft, transparent running water bottle from Salomon is excellent for those looking to carry a small amount of fluid without the hassle of a full-size, proper water bottle. With a soft design, this water bottle is super versatile, lightweight, and ideal for running during the hot months.
2.
Rundo 2x running water bottle set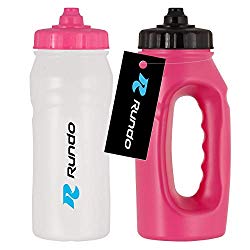 Key features:
Ergonomically designed
Anti-leak design
Contains two bottles
This set of two water bottles includes a handheld and a fist bottle, both with valve caps. Both of these bottles are ergonomically designed and perfect for running – providing a no-hassle, lightweight, approach to carrying water when running.
Secondly, the one-way valve prevents the bottles from leaking. Whether on the run or in your bag, no one appreciates a leaky water bottle – especially when it ruins all of your stuff.
3. Ultimate performance Men's kidlder handheld bottle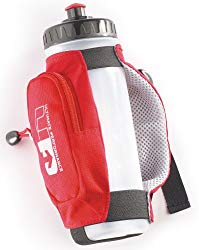 Key features:
Comfortable handheld strap for running
Holds up to 600ml of fluid
Zipped pocket for valuables
Unlike the others suggested so far, this running water bottle from ultimate performance contains a comfortable handheld strap for running. Holding up to 600ml of fluid as well as providing a zipped pocket for valuables, and a high-viz trim, there's plenty of selling points for the kidlder bottle.
We personally like the inclusion of the padded moisture-wicking hand strap keeping you comfortable, sweat-free, and running mile after mile while remaining hydrated.
4. AiRunTech running belt with water bottle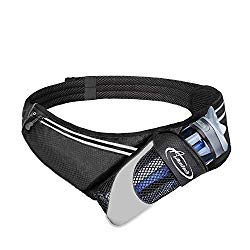 Key features:
Large pocket and small pocket design
Ideal for long runs
No need to carry
One option for runners who aren't fond of carrying a water bottle when running is a running belt which stores a small bottle. With an adjustable fit, a main pocket for smartphones, and a small pocket for valuables alongside its many other features, this running belt is ideal for long runs, running on the trails, or even the fells. 
5. Nankod foldable soft flask for outdoor sports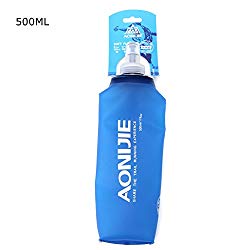 Key features:
Convenient
Can be stored in backpack, bum bag, or belt

Soft 
This foldable soft flask is great for outdoor sports, including running, mainly due to its ability to fold up into a waist bag, chest bag, bum bag, or even just in your hand. With a choice of either 170ml, 250ml, or 500ml, this foldable soft flask is great to bring with you on a summer's day – keeping you cool and hydrated.
If you're not a fan of carrying a water bottle, you can always store the foldable flask in either a running backpack, bum bag, or any other equipment which contains a small storage compartment.
6. Contigo swish autoseal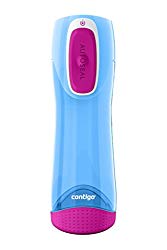 Key features:
Leakproof and auto sealed
Push-button 
Ideal for running on the treadmill in the gym or carrying around work, this switch water bottle is both leakproof and auto sealed. Preventing your water from spilling while utilising a push-button for drinking on the go, this water bottle is great for drinking on the go while minimizing spillage. 
7. Ultimate performance 300ml water bottle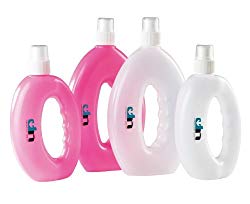 Key features:
Choice of five different colours
Holds up to 300ml of fluid
Won't break the bank 
Coming in five different colours, this super affordable 300ml handheld water bottle is great for running, hiking, walking, and other sports. With 46 ratings on Amazon and an average of 3.5 stars, this bottle does exactly what it says on the tin and all for a price which won't break the bank.
Finally, the bottle also includes a sealable cap to prevent spillage while either running or carrying the water bottle around. 
8. Karrimor unisex X lite running belt and bottle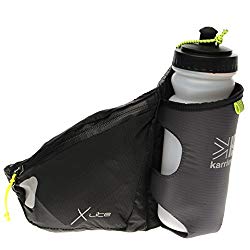 Key features:
Zipped pocket to store valuables
Stylish design
Perfect for fell and trail running 
This running belt and bottle from Karrimor is unisex, stylish, and contains a zipped pocket for small valuables such as cash and keys. If you're not a fan of the Karrimor water bottle itself, you can replace this for a bottle of your choice secured with the cord provided with the belt.
Utilising a unisex and stylish design, you can remain hydrated while looking the real deal whether you're hitting the road, fells, or trails. 
9. HIGH5 running water bottle with ten tabs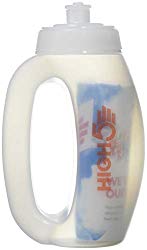 Key features:
Small and lightweight
Handheld
Contains HIGH5 tablets
If you're after a small, lightweight, and handheld running water bottle with FREE ten ZERO berry tablets from HIGH5, then look no further than this bottle. 
The tablets themselves create a sugar-free, electrolyte drink designed to replace sweat and stay hydrated when running. Electrolyte tablets can be a good choice on a hot summer's day as we prone to sweating more – potentially affecting our running performance if running long distances while not taking in enough fluids.
10. COTOP portable dog water bottle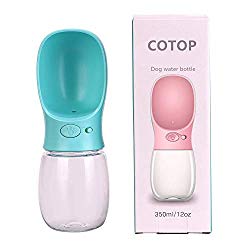 Key features:
Portable
Keeps your dog happy and hydrated 
If running with a dog, you may look to invest in a portable dog water bottle. Keeping your dog hydrated on a hot day is just as important as keeping yourself hydrated.
However, remember than in temperatures hotter than 25 degrees Celcius it's best to leave your pet at home as the weather that hot will do more harm than good.
For more information on running with your dog, you can check out our blog post on the ultimate guide to running with your dog.
This small dog water bottle from COTOP is easy to carry, lightweight, and leak-proof to prevent water from spilling in your bag, running belt, or wherever you choose to store it.