1010 of the Best Men's running tights available in 2019
Wrap up warm this winter with these warm men's running tights.
With winter approaching fast, you don't want to be caught out. It's essential to invest in some warm weather running gear such as a running jacket, running gloves, long-sleeved tops, and a pair of running tights – as covered in this article.
Related: 9 Essential winter running gear items for women.
Related: 9 Essential winter running gear items for men.
When the temperatures drop, and it's freezing, you can't go wrong with wrapping up warm. A pair of men's running tights will improve circulation and support our muscles for the entire duration of our run.
When we wear running tights, the skin-tight fit allows us to stay warm and maintain heat while actually wearing less.
Running tights are especially great for warmups in the cold but not freezing temperatures. Warming up in your tights will improve circulation and increase blood flow much faster in cold conditions compared to just wearing shorts. Your tights can later be removed before your interval session or run properly begins.
The remainder of this article will discuss when you should wear running rights, how to wear them, how tight they should be, and of course, the reason you're here – the ten best men's running tights currently available in 2019.
When should I wear my running tights?
Runner's World recommends wearing running tights in anything colder than 4 degrees Celcius and certainly below freezing. This will reduce your risk of hypothermia while keeping your muscles nice and warm, reducing your risk of pulling a muscle, increasing your performance, and of course, keeping you nice and toasty.
How do I wear running tights?
Many people wear men's running tights in entirely different ways. Some wear running tights by themselves while others wear shorts over or even under them. However, ultimately it depends on the style and make your running tights.
Personally, we suggest wearing a pair of running shorts over your running tights, especially in cold weather. However, with a high-quality pair of running tights, this won't make a huge difference in terms of warmth.
How tight should my running tights be?
You may be wondering, how tight is to tight? When it comes to running tights, they should be tight yet not restricting. If you're having trouble maintain your regular running form or start to get muscle cramps, chances are they're too tight. If running tights aren't for you, you could always invest in a pair of running trousers?
Ten of best Men's running tights
Without further or do, here are our picks on the ten best running tights for men currently available in 2019.
Related: 10 of the Best Women's running tights available in 2019. 
*This post contains links to amazon. As an amazon associate, we will earn a small percentage on qualifying purchases. Find out more here.
1.

Adidas response long running tights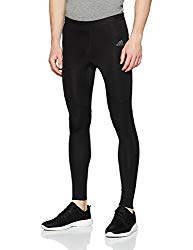 Created with climacool technology, these tights will keep you cool and dry in warm weather and nice and warm in even the coldest of temperatures. The soft and stretchy fabric will prevent chafing while providing a comfortable run no matter the temperature.
Click here to buy now via Amazon!
2.

New Balance core Men's running tights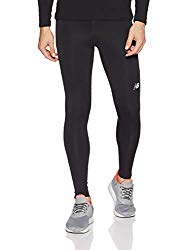 Designed to meet your every workout need or run with its fixed silhouette, these tights also contain a small zipped pocket for valuables alongside a dry-moisture wicking technology to increase comfort, reduce chafing, and keep you running mile after mile regardless of the weather.
Click here to buy now via Amazon!
3. Ronhill trail cargo tights for running

Created by Ronhill, these tights are designed with Powerlite fabric – offering increased comfort and great freedom of movement and excellent support while running or working out. As well as this, these running tights also contain two side zipped pockets for valuables and an expendable back zip pocket with a 600ml capacity if needed.
Click here to buy now via Amazon!
4. Adidas 3-stripes tights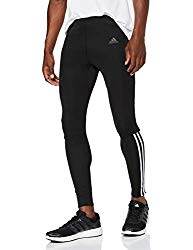 Designed with a tight fit that feels like a second skin provides freedom of movement and increased comfort with these men's running tights. With the authentic style and three-stripe design, you look stylish without sacrificing on performance. The bottoms of the tights also zip-up, perfect for removing and putting on tights over your shoes or other layers.
Click here to buy now via Amazon!
5.

Karrimor performance tights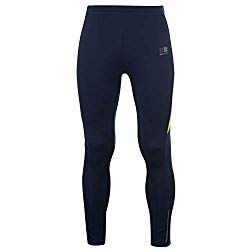 A very affordable option, perfect for beginners, these tights from Karrimor are perfect for winter running. These contain a zipped pocket located at the back of the tights for valuables alongside mesh panels for increased airflow and reflective panelling for low light conditions to increase visibility.
Click here to buy now via Amazon!
Related: 8 Tips to safe while running during the day or at night.
6.
Nike running tights for Men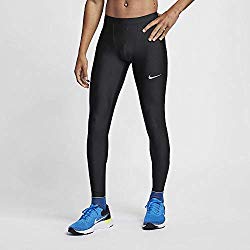 These stylish running tights from Nike make use of Nike's signature DRI-FIT technology. This will help keep you dry, warm, comfortable, and most importantly focused when running. With a reflective trim and graphics alongside zips at the ankle for increased comfort, you're sure to remain safe while protected against the worst of elements.
Finally, there is also a zipped pocket with a vapour barrier to guard items from sweat – perfect for storing valuables.
Click here to buy now via Amazon!
7.

Under armour run true heat gear tight leggings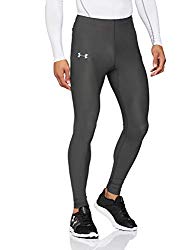 Created with tough, lightweight Heatgear fabric, you'll receive all the performance benefits of compression while staying toasty warm. One of the more unique features to these tights is the built-in brief for added support; something we'd like to see more in other running tights.
Finally, these running tights contain sweat-wicking material to keep us dry alongside a 4-way stretch construction to allow for unrestricted movement in every direction.
Click here to buy now via Amazon!
8.

Salomon Men's agile tight running pants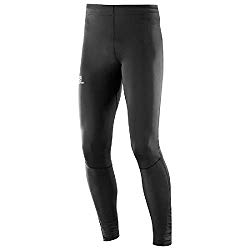 As you'd expect from Salomon specializing in fell and trail running gear, these running tights live up to their reputation. With a five star review on Amazon and manufactured using breathable, fast material, you're guaranteed to remain dry, warm, and protected while on your run.
Click here to buy now via Amazon!
Related: 7 Reasons why you should start trail running.
Related: Top 10 affordable fell running essentials.
9. Nike Men's running tights (blue)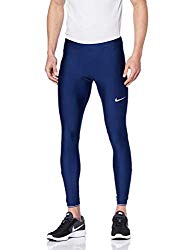 If blue is more your colour, then you're in luck. These running tights from Nike are great for remaining dry, warm, and most importantly, stylish all winter long. With a zipped pocket located at the back of the tights, you also have room to store valuables such as keys or cash while on the run.
Click here to buy now via Amazon!
10.

ASICS reflective tights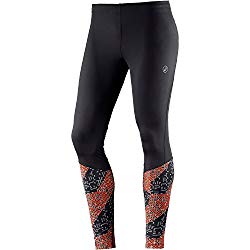 Despite the higher price tag, these men's running tights from ASICS will be your best friend when running in low light or dark conditions. As well as this, you'll benefit from ASICS' motion dry technology – wicking moisture and sweat away from the body to keep you dry, comfortable, and warm while running.