Running with your dog: 8 must-have pieces of gear
Running with your dog? Here's eight pieces of gear perfect for your next run.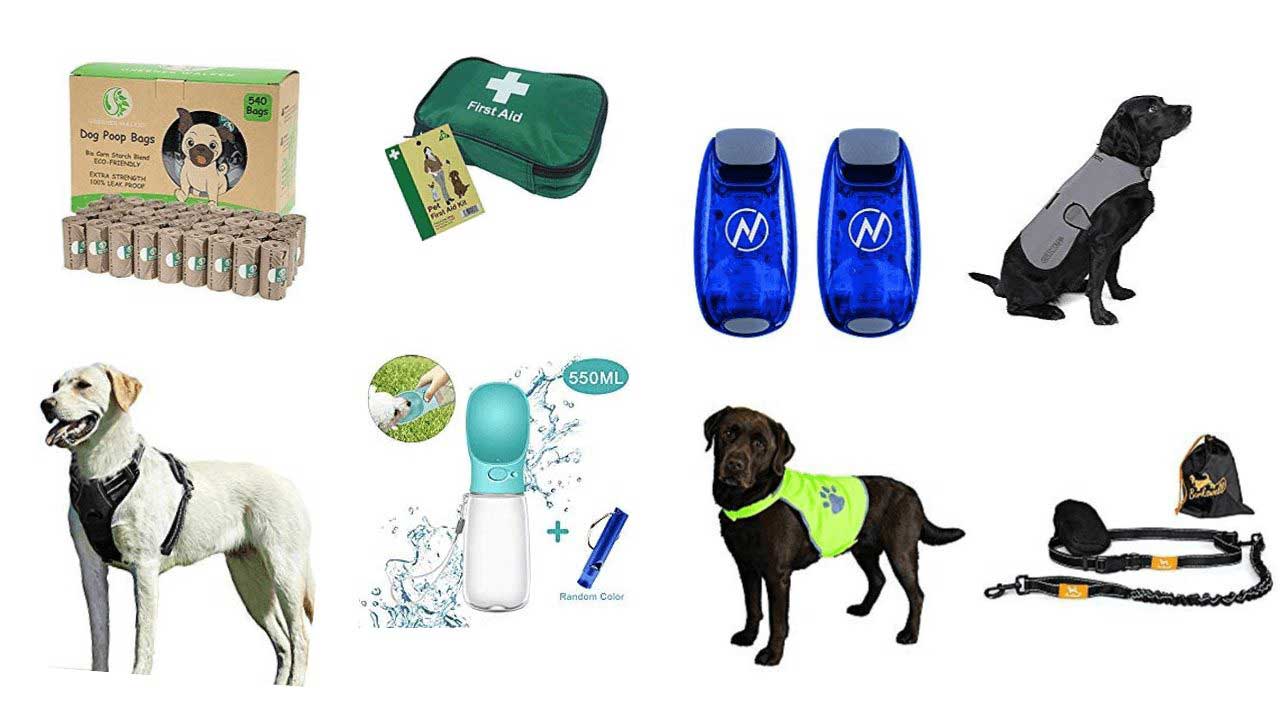 Running with your four-legged friend can be a great way of getting their daily walk, or shall we say 'run' in, as well as your own daily dose of exercise. Whether you prefer to run in the morning or after work, there's nothing quite like pounding the pavement with your little companion.
However, remember, it's essential to stay safe while running with your dog. Remember to leave them at home when it's too hot or too cold, as well as building up your dog's endurance when you begin. Further things to watch out for include:
Wear highly reflective material when running at night (this includes your dog)

Don't run too fast

Always monitor their health

Watch where you're running for broken glass etc.

Keep your dog on the lead

Ensure your little friend remains hydrated before, during, and after your run
This article will provide eight must-have pieces of gear for running with your dog, from running lights to high-tech dog leads, we have you covered. 
Related: The ultimate guide to running with your dog. 
*This post contains links to amazon. As an amazon associate, we will earn a small percentage on qualifying purchases. Find out more here.
1. Hands-free running dog lead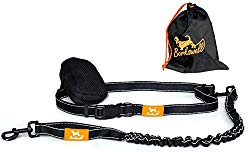 Key features:
Reflective trim on the belt to keep your dog well-lit
Zipped pouch with two compartments
Holds up to 60kg 
This hands-free running dog lead from Barkswell allows complete freedom while walking, jogging, or running with your pet. There is also a reflective trim on the belt to keep you and your dog well-lit on those dark nights or early mornings.
As well as this, there is also a zipped pouch with two compartments to store your keys, phone, or even poo bags while running.
Finally, the lead is shock-absorbing and can hold up to a total of 60kg, suitable for dogs of all breeds and sizes. 
2. No-pull dog harness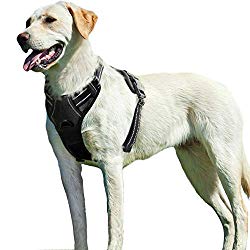 Key features:
Easy to adjust 
No-pull front clip
Distributes pressure evenly to increase comfort 
As well as a new lead, you may also look to invest in a no pull dog harness. The one we've suggested comes in five different colours, is easy to adjust, and contains a no-pull front clip to prevent your dog from pulling while walking, jogging, or running.
Secondly, this harness contains a no choke back clip to distribute pressure evenly to increase comfort, alongside a sturdy handle for quick control in uneasy situations – perfect for running.
Finally, it's worth mentioning the harness is made out of oxford fabric which is both comfortable and durable, while also utilising an elastic design to increase comfort further.
3. 550ml portable dog running water bottle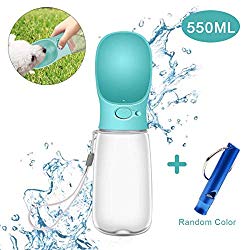 Key features:
Holds up to 550ml 
Easy to carry
Leak-proof design
Coming in three different colours, this portable dog running water bottle holds up to 550ml while being easy and convenient to carry while running. 
As well as this, as expected, the bottle is leak-proof and is made of high-quality material, all while keeping your dog well-hydrated and happy throughout your run.
Related: The best running water bottles.
4. Trixie dog safety vest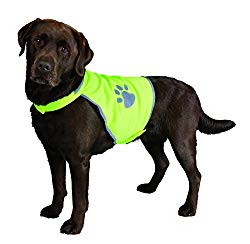 Key features:
Highly-reflective design
Comes in many different sizes 
When running in low light conditions or at night, it's super important to remain reflective – that also includes your dog. We suggest investing in a safety vest like the one above. Containing a cute paw print while utilising a fully adjustable fit, your dog will be well-lit, safe, and comfortable throughout your walk, jog, or run.
This vest also comes in different sizes dependant on the size of your pet, ranging from extra-small to extra-large.
5. Biodegradable poo bags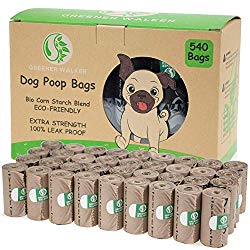 Key features:
Leak-proof and extra strong
Good for the environment
Contains 540 bags
Perfect for running, these biodegradable poo bags are extra strong, stretchy, and leak-proof, all while doing your part for the environment. Finally, there is a total of 36 rolls with 15 bags per roll, totalling 540 bags – lasting well over six months – especially if only used while running with your dog.
6. LED clip-on safety lights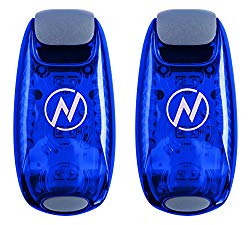 Key features:
Clip-on design
Completely weatherproof
Lightweight
This two-pack of LED safety lights come in a choice of either blue, green, orange, pink, or red. With a clip-on design, these safety lights are ideal for clipping to your dog's lead or harness – keeping them well-lit while running at night.
Related: 10 Tips to stay safe when running at night.
As well as this, these safety lights utilise a lightweight design, are super versatile, come with a one-year warranty, and are completely weatherproof.
A nice addition to this product is a collection of replacement batteries, something many products fail to offer. 
7. Proviz reflect 365 waterproof dog jacket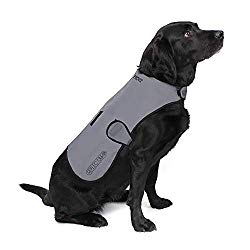 Key features:
Fully reflective waterproof jacket
Comes in five different sizes
Includes a harness hole 
You may know Proviz for their high-viz reflect 365 running and cycling jackets. However, since then, they have now developed a fully waterproof dog jacket.
During daylight, the jacket is modest grey colour, while at night, the fabric picks up all external light sources – turning it into a highly reflective beacon for oncoming traffic and pedestrians. 
The running jacket also comes in five different sizes, ideal for any dog breed and size.
Finally, Proviz has also included a harness hole. Therefore, the jacket can be placed comfortably over the harness while increasing visibility to other road users.
8. Pet first aid kit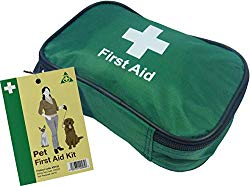 Key features:
Small and easy to carry
Convenient
If you're running for longer distances or alternatively hitting the trails or even the fells, it's good practice to carry a pet first aid kit and even some paperwork if you need to make an emergency visit to the vets. You don't have to carry these either, you can store these in the boot of your car or the first aid kit in a waist bag while running.
Carrying basic first aid essentials such as bandages and low adherent dresses are great for small or even large cuts, at least to put your dog on until you're able to visit the nearest vet.
The bottom line 
While running with your dog may be your favourite time of the day or week, there are plenty of pieces of gear to take your run to the next level. Personally, we suggest definitely investing in a high-viz jacket, and a dog lead and or harness, keeping your dog well-lit and comfortable mile after mile.
Finally, if you've got an older dog it may be worth investing in an orthopaedic dog bed to relieve pain after running, especially if they're not used to such strenuous exercise.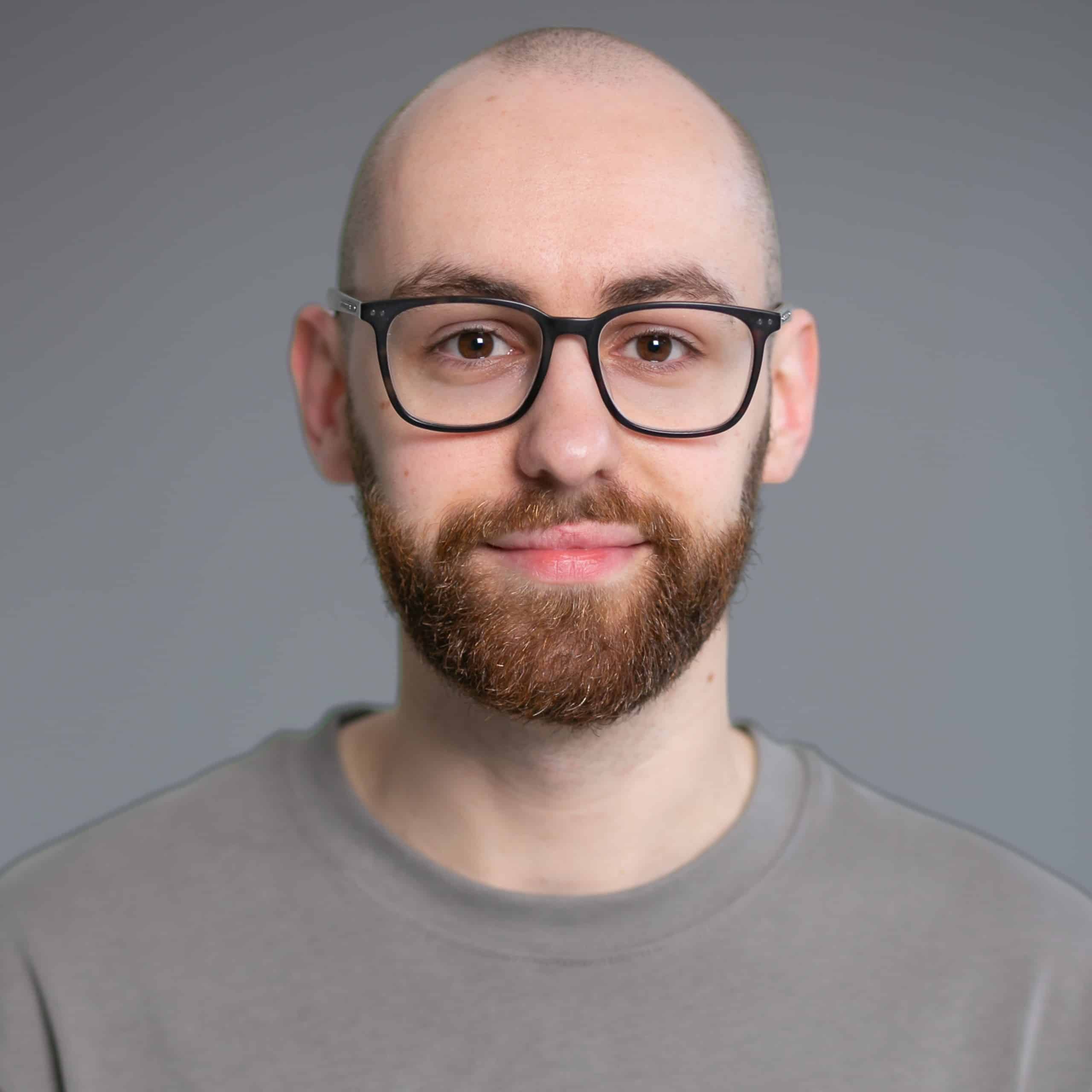 Matthew is an avid runner, freelance writer, Durham University graduate, and the founder of Running101.