10 Tips for running in the rain
Running in the rain can make you a stronger runner mentally and physically – as long as it's done right.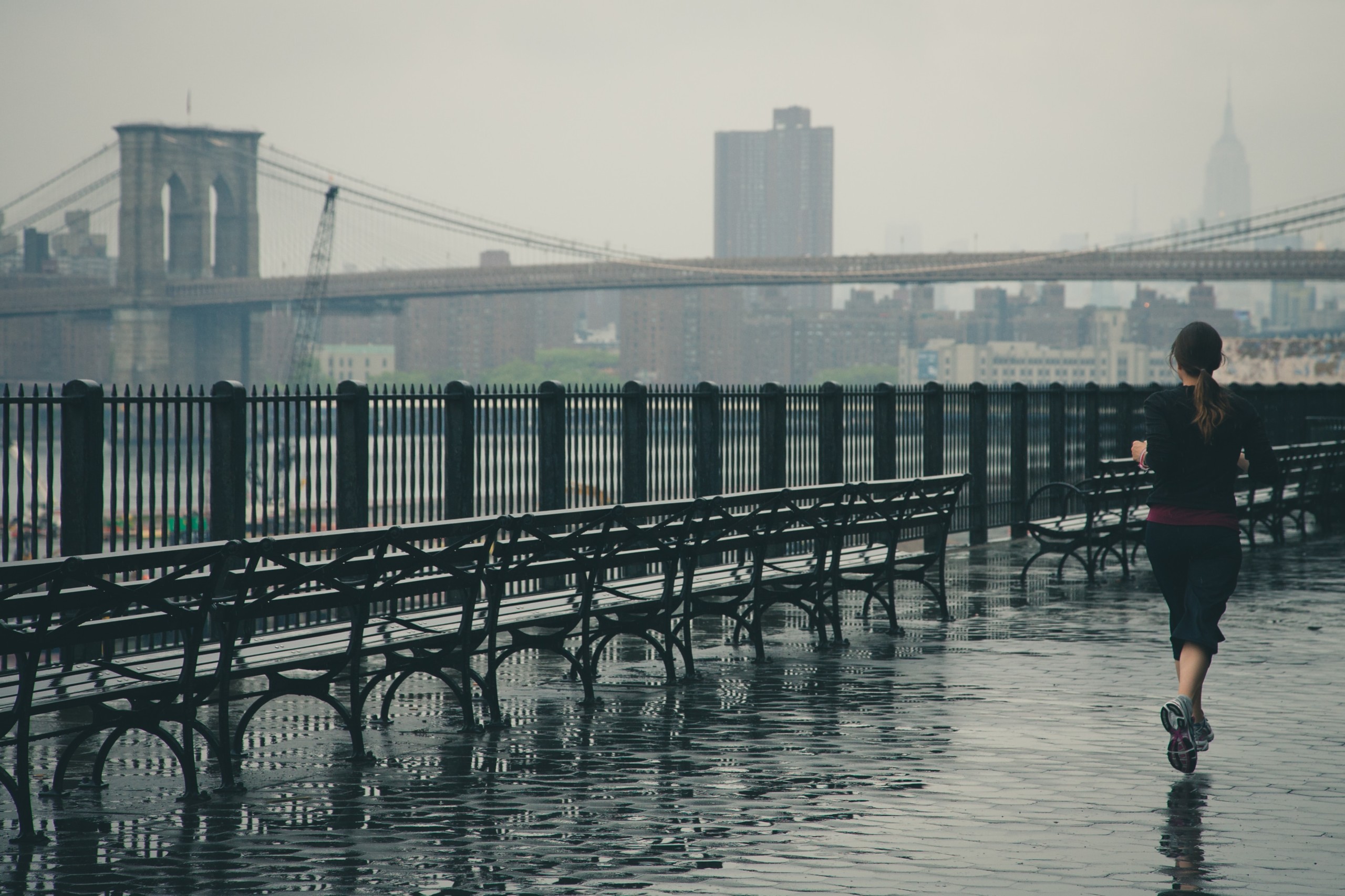 Don't let the rain ruin your workout – running in the rain sucks, we get that, but preparing yourself to embrace the elements can make your run that little more bearable. To equip you to get out the door during the next downpour, we've created ten tips for running in the rain.
1. Accept that you're going to get wet
When running in the rain, accepting that you're going to get wet is the first thing you want to do. Embracing the conditions and getting both feet out of the door is all you need to get going.
While it's tempting to wear a waterproof jacket (amongst other layers), we advise against this. Wearing extra layers will more than likely cause you to overheat, therefore, making you uncomfortable and causing an unneeded hassle when you're forced to carry your jacket for the remaining 5 miles.
2. Dress for the weather
As previously touched upon, dressing for the weather while running in the rain is essential to your own comfort. Generally, a long-sleeved top and shorts will be fine (unless it's super cold).
Choosing the right socks is just as important as not overdressing when running in the rain. We advise against wearing cotton socks (this counts for tops too), cotton absorbs water – making for an all-round soaking experience.
Related: Running socks: 15 of the best in socks in 2019.
3. Wear the right shoes
Before heading out the door, you may want to do a shoe check. Wearing running shoes with little grooves/grips while running in the rain will boost your risk of slipping, increasing your risk of falling and more importantly slowing you down! Investing in a pair of running shoes with deeper grooves will allow water to be channelled through them, creating more grip while running.
4. Consider your route choice
When running in the rain, you may want to consider changing up your regular running routes. Avoid areas which are slippy, such as river crossings, mud, and any other uneasy terrain.
As well as this, if running a fast workout or set of intervals, then we recommend opting for the treadmill. Running in the rain is much slower, and more dangerous – especially when running fast.
Running on the treadmill is perhaps like staring at a blank wall, but more importantly, it'll allow you to hit your session and keep dry! Why not put on your favourite music or even watch an episode of your favourite show on Netflix at the same time?
5. Protect your electronics
To keep your phone/electronics safe while on the run we recommend purchasing running gear which has sealable pockets. Alternatively, investing in a waterproof phone case works just as well. We particularly like Swimcell's waterproof running phone case armband as displayed below, and on Amazon – ideal for running even in the worst conditions.
This post contains links to amazon. As an amazon associate, we will earn a small percentage on qualifying purchases. Find out more here.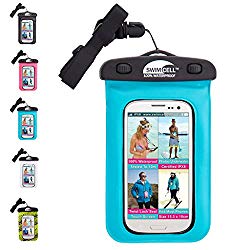 Click here to buy now via Amazon! 
6. Wear a cap
Wearing a hat with a brim (such as a baseball cap) will keep the rain off of your face, even in the toughest of elements. Wearing a cap can also be useful for running in the heat, keeping the sun out of your eyes and preventing a nasty sunburn.
If it's cold and rainy, we suggest choosing a thicker hat to keep warm and keep the rain out. If you want to travel back to the 80s, choosing to wear a fleece headband over your cap will prevent it from blowing off.
7. Remain visible
Often when it's raining, it becomes much darker, making it much more difficult for drivers to see you. Therefore, it is essential to remain visible. Breaking out your neon running tights or opting for bright colours such as yellows, oranges or pinks will definitely allow you to be seen.
If running with a dog, we recommend using a reflective jacket, this will help keep your little pal safe and fully seen by drivers and passer-by's.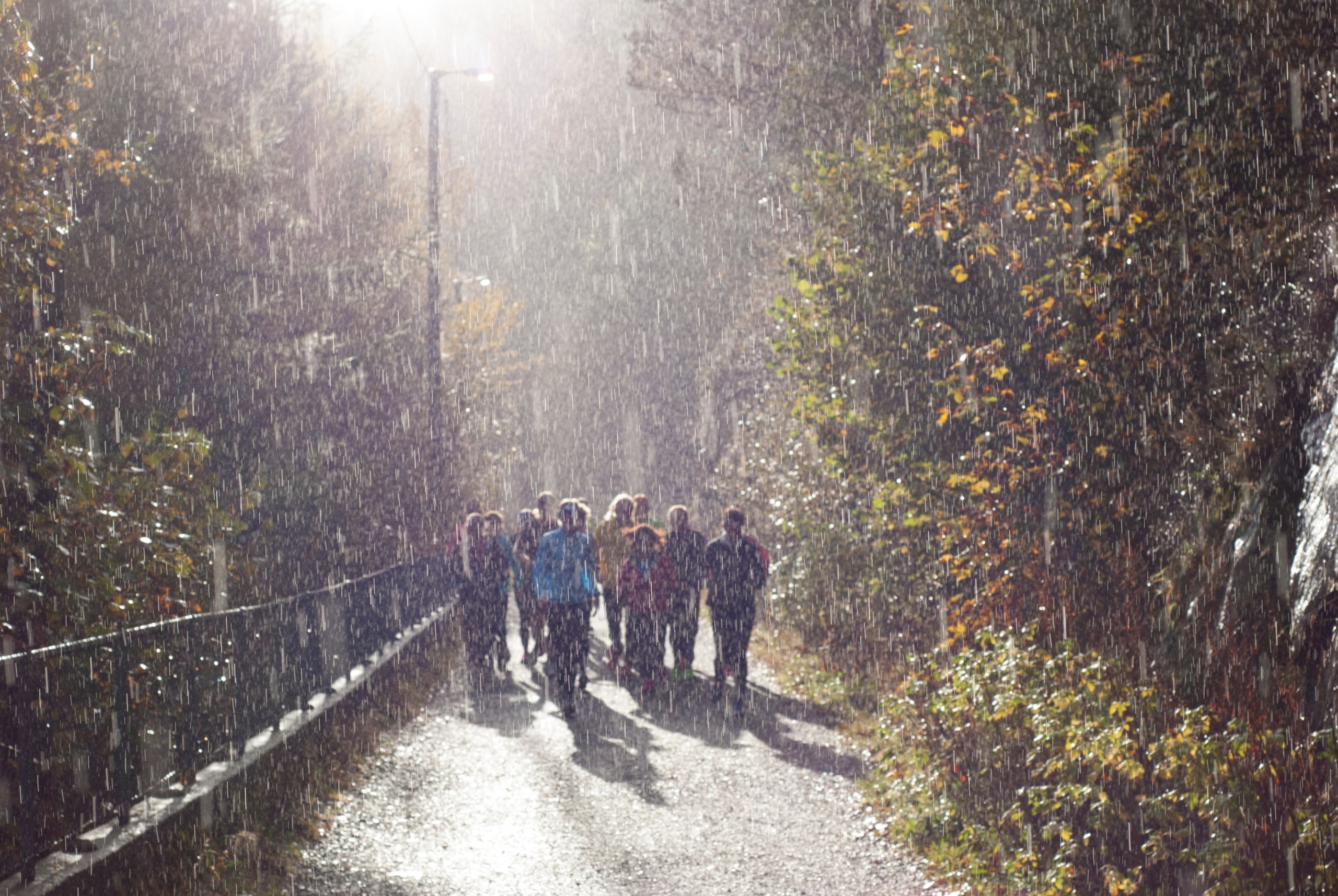 8. Change your mindset
You've got to have bad days to have good days. Although running in the rain may suck, you have to understand that the conditions are tougher mentally and physically. Accepting this and knowing that running in the rain will make you a stronger runner is an easy way to motivate yourself to get out the door. If struggling with motivation, we suggest checking out our 20 motivational running quotes post. If that isn't enough, just think, the rain will even cool you down!
9. Sometimes you've just got to hit the treadmill
As much as you really may not want to hit the treadmill, sometimes it's the best option. Whether going for a faster run or even an easy 30-minutes, if the weather doesn't agree, it is much safer running indoors. Programs such as Zwift Running can make treadmill running much more bearable – allowing for a virtual world in which you and others are running in.
10. Change out of your wet clothes immediately
To remain warm after finishing a run or race, you should immediately switch out of your wet running clothes, dry off and put on a fresh pair of clothes. Wearing wet clothes will decrease your body temperature, increasing your risk of hypothermia.
If running at a race/event, bringing a waterproof bag to keep your wet clothes in is always a good idea. Be sure to bring a spare pair of clothes and a nice warm jacket for when you've finished your run.
To summarise
Running in the rain isn't pleasant, in fact, it's uncomfortable. However, we can take action and make it a little more tolerable. We suggest investing in proper running gear, running shoes with good grips, and altering your route depending on the weather and the terrain, to name a few.
Finally, changing your mindset is possibly the most important takeaway. Motivating yourself to run in the rain while others won't gives you a mental advantage and a massive sense of accomplishment. Be sure to reward yourself after a wet run with a hot cup of tea and a nice warm bath.